How To Get Laundry Done Faster
Fresher Towels
Keep your bath towels fluffy and absorbent, you can substitute your fabric conditioner and use a cupful of white vinegar into the wash instead. It also gets rid of musty smells not only on towels but on other fabrics as well.
Color-coded baskets
A mountain of laundry can become a source of stress and eyesore. the best way to counter this is to color code your basket! Grab three laundry baskets and create a color code according to the wash: whites, colors and darks.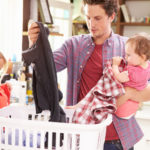 When wash day comes, you can simply empty whichever one you want to go into the machine.
DIY fabric freshener
Did you forget to wash your favorite shirt? Freshen it up fast with a homemade fabric freshener. Mix one part baking soda, one part fabric softener and two parts of warm water in a spray bottle. Shake, spritz and you're ready to go.
Use a quick wash cycle
Switch to a quick wash setting if your clothes necessarily don't need any treating or no stains are seen.
Wash sneakers in the washing machine
Take the pain out of cleaning sneakers – remove the laces, wipe off any excess dirt and pop them in a pillowcase to wash. Set the machine to a cold cycle to avoid the colors fading.
How to clean a washing machine
Add half a cup of bicarbonate of soda or  half a cup of white vinegar.
Bed sheet bundles
Keep matching bedding together by piling up the neatly folded fitted sheet, duvet cover and pillowcase and then sliding them into the other pillowcase. It's easier to store and quick to find, next time you change the bed.
Speed up tumble drying
Add a couple of clean tennis balls, a dry towel or scrunched up balls of tin foil into the drum with your clothes to stop them clinging together. This speeds up drying time and saves you money.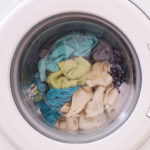 Using the spin setting
If drying is an issue. that you cannot get your clothes as dry as you can. Try putting them on for an extra spin in the washing machine. It will only take around 10 minutes but will mean a shorter drying time later.
Quick iron
Iron both sides of your piece of clothing at the same time by placing a sheet of tin foil – shiny side up – underneath the ironing board cover. The heat will bounce back up and take the creases out of the other side.
More home & garden tips